For the past 28 years, since 1992, the Torrance Police Officers Association has held our Memorial Charity Golf Tournament, where 100% of the tournament proceeds fund 5 (five) Scholarships for a total amount of $10,000 for students attending our local High Schools. These Scholarships are awarded in memory of our fallen police officers who gave their lives while serving the citizens of Torrance. The Torrance Police Officers Association, incorporated on February 18, 1950, is a non-profit 501 (c) (4) organization, with over 200 police officers, dedicated to serving the City of Torrance. All donations or sponsorships are tax deductible.

With the rising cost of college education, the Torrance Police Officers Association, with your kind assistance, strives to continue helping the youths of our community and hopes to increase the funding we can provide.

Please join us for our Memorial Golf Tournament (Click here to visit event page) and help us to raise the funds to honor these fallen officers and to support the future leaders of our community

We send out our Applications to each of the area High Schools in January/February of each school year so that students may apply.

Applications Available: February 18, 2022
Application Deadline: Tuesday, March 8th, 2022
We can only accept 10 applications from each high school
Scholarship committee will meet on March 15th to select.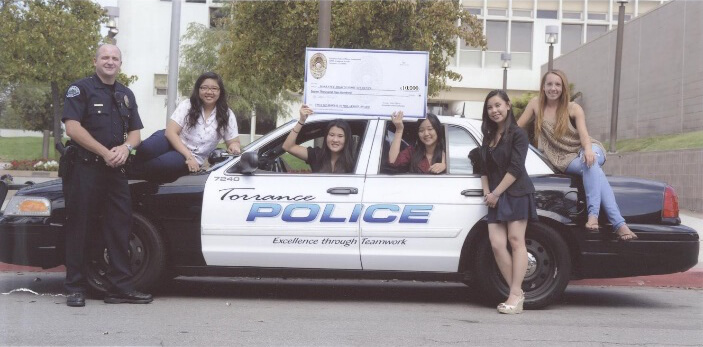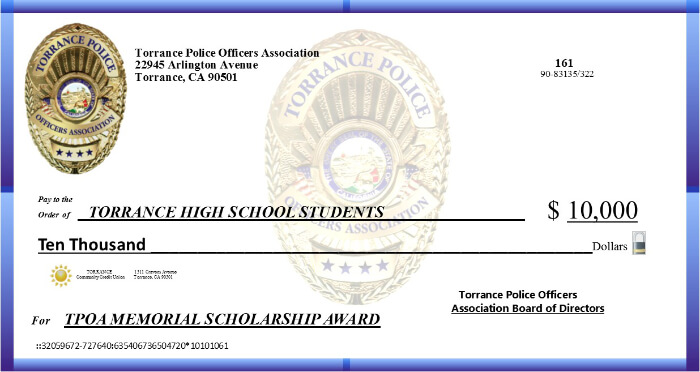 Recipients of our Scholarships will be awarded on the basis of the following:
Scholastics
Interests
Need
Outside Interests and community services
Requirements:
All Torrance graduating seniors are eligible
Must attend a Torrance High School
Applicant must be a U.S. Citizen or show proof that they have applied for citizenship
Photograph (not returnable)
Unmarried at the time of the scholarship
Remain in school or forfeit the scholarship
Attend a four year school or accredited Junior College or Trade School
Carry at least 12 units of college courses
3.0 Grade Point Average shall be required to apply
Transcript must be submitted
Two recommendations included
If awarded, the recipient of the scholarship award must provide the scholarship committee with proof of enrollment prior to having monies sent to them. The scholarship monies will be payable directly to the recipient only after proof of registration and confirmation of enrollment is received by Torrance POA.